Basics of Wrestling
Learn about the basics of wrestling and what wrestlers do in practice and in matches.
 Everyone knows about football, basketball, soccer, but no one really knows about wrestling or what wrestling entails. Wrestling is a sport that takes a lot of intelligence and skill, but wrestling can also be played from a lot younger than what people think.
"I joined the high school wrestling team because wrestling has been my passion since kindergarten. It's always been what I did." Sophomore Jackson Jones said.
Most people think of wrestling as a sport made for middle school and up, but Jackson has been wrestling since kindergarten.
"I would convince someone to join the wrestling team by telling them that it's really good for getting your body in shape, it's good for learning how to compete, and learning how competition works." Jones said. 
Wrestling season has just started with many new freshmen wanting to join the wrestling team. These words could have pushed someone over the edge on if they should join the wrestling team or not. Wrestling helps in tons of different ways.
"Wrestling has changed me physically. I got stronger and a lot better at football in my opinion and with my stance and all that." Sophomore Gunner Albin said.
"
The wrestlers are very friendly, nice people, coaches will teach you everything"
— Gunner Albin
Albin is also a football player as well as a wrestler. Wrestling is a great way to get in shape. Most of the wrestlers are multi-sport athletes which usually makes everyone have something in common.
"The wrestlers are very friendly, nice people, coaches will teach you everything, and other wrestlers will come over and help you out when needed." Albin said.
When it comes to wrestling everyone could have favorite moments some of those could be a performance where they place really well or when at practice everyone was cheering for everyone.
"Definitely when we went to sectionals in Springfield and it was just a really good time all the way through." Jones said.
Wrestling can also help with more than just getting stronger and more flexible. Wrestling can also help mental health.
"It's helped me get strong, it's helped me get faster, quicker it's helped me cope with a few things too wrestling is kind of my way out of the world." Jones said.
Wrestling practice is a lot more than just wrestling another opponent.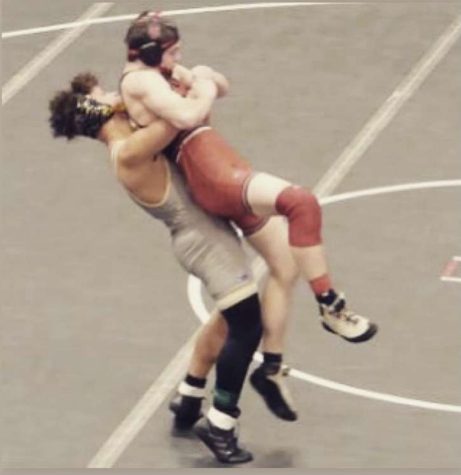 "Basically we start off by doing warm-ups. Get into some light drilling then heavy drilling then we work on technique, and live wrestle, then condition at the end." Jones said.
Wrestling matches can be difficult to follow. There are so many different things to watch and think about.
"Wrestling matches are six minutes and three periods. You start off on the whistle you also start off in neutral, but whoever the coin flip lands you can defer or you can pick top-bottom neutral. Most of the time you defer though so you can get the pick in the third round." Jones said.
There are tons of different wrestling moves, there are easy moves, hard moves, more physically demanding moves.
"My favorite move is probably a jap whizzer. It's a win tie situation where you can't lose. It either puts you in a scramble or you get the takedown and possibly some back points." Jones said.
Wrestling is a sport where people can bond with everyone. Everyone there is there for a reason because they want to get more flexible or strong or there to make a family with other people. There are tons of different reasons why someone keeps wrestling 
"Just the coaches and the people there motivating me and getting me better." Albin said.