Parking Lots Closed Due to Construction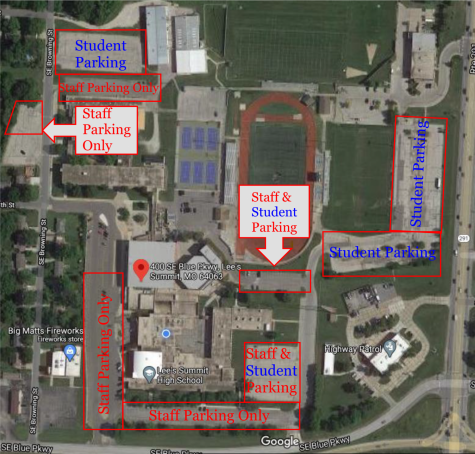 There have been plans to renovate  Lee's Summit High School for quite some time, so it is no surprise that the school would decide to start construction while the world is turning upside down. Dr. Harrison sent an email of a picture with where students and staff can and cannot park. The places that are currently available to students are the soccer and cage lot, the parking lot in front of the tiger head, the senior lot, the lot in front of the football field, and the lot by Industrial Tech. Although a nuisance for a while, there is a question of if students will be allowed to park at all at school when all students come back for next week or if all students will have to find a different form of transportation. 
There are also whispers about the currently open cage lot and soccer lot being closed for construction as well. This causes a massive problem since the school will be opening back up for four days a week with 1,800 students. Everything is currently up in the air, but it seems that if these parking spaces do keep closing, eventually only staff will be able to park while students will have to resort to the big yellow buses for transportation. 
Another reason for parking spaces closing has relation to the big three-year renovation plans for the interior of the high school. Multiple classrooms will be blocked off by the end of February for construction, so staff and students will be moved to rented mobile homes out in the parking lots, which are already being shuffled in. Most of these classrooms are in the A building, so most likely the mobile homes will remain around the parking lot in front of the school and by the football field.
For now, students and staff will just have to wait until decisions will be made. The rumors of the cage and soccer parking lots are not yet confirmed, therefore only the future will tell what will be happening on top of all the other problems that are going on in the world. Fortunately, this problem is not nearly as huge as some of the other more recent ones, and Lee's Summit High School students and staff are known to go with the flow fairly well.