Sport of the Arts
Although Winter Guard is not well known, it functions just like any other sport.
Basketball, swimming and wrestling are not the only sports that compete during the winter season. Juniors Maya Bowen, Bailey Hein and sophomore Emily Perry explain what Winter Guard is all about. 
"Winter guard is basically– we spin flags and rifles, and it's a competitive sport. We compete in MCCGA, which is the MidContinent Central Winter Guard Association. And also WGI, which is Winter Guard International," Hein said. 
The official term for Winter Guard is "sport of the arts." 
 "There's lots of musicality and performance, and it's not just a sport, but it's both," Hein said.
"
There's lots of musicality and performance, and it's not just a sport, but it's both."
— Bailey Hein
Although Winter Guard is competitive, anyone can join. 
"It doesn't require any previous experience or learning- you could come with no knowledge of what it is, and we'll teach it to you, like how to do it- like simple basics, and then you'll audition," Hein said. 
Perry joined last year, and even though some aspects of the sport can be scary, she has fully enjoyed her experiences on the team. 
"I love the people, I love performing. It's a little bit scary at first, flipping a six-foot flagpole in the air," she said. 
The team works really hard to make sure their performances are top-notch. 
"We have practices every Tuesday and Thursday and at the beginning of the season we have our choreography camps for about two weeks where we learn staging, and then we learn of course choreography for the flags and rifles," Hein said. 
Even though preparing for performances can be difficult, there are always positives to being a part of Winter Guard. 
"The Winter Guard community is very supportive, like even of the tiniest things- like people you don't even know from other schools across the state, and so it's really uplifting to be performing and have a really cool moment in the show and just like hearing people that you don't even know cheering for you," Hein said. 
For Bowen, the best part about Winter Guard is the final product. 
"The end production is one of my favorite parts, and then just being with all of the people that are there cause it's really a family," Bowen said. 
This season, the team will travel to compete against other schools, unlike last year due to COVID.
"We do travel for winter season. I haven't gotten to experience that because last year with COVID we just did virtual. Where we stayed in our gym and we submitted videos," Perry said.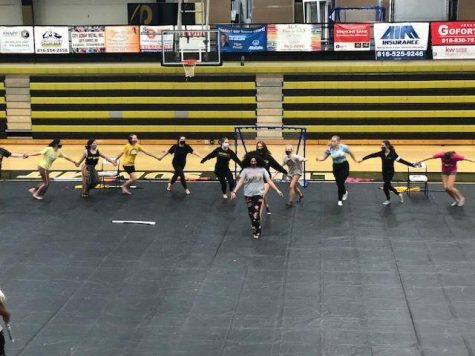 Each person has a role on the team, whether it be big or small. For Bowen, she has a significantly large role as equipment manager and making sure that the team looks uniform. 
"I help with– especially new people, like taping their flags, and stuff like that. I also make sure everyone has their equipment, and I also check people's hair and makeup, to make sure that we're all the same," Bowen said. 
Being equipment manager is a large responsibility, but Bowen has help on the leadership team that she can rely on. 
"I have two other people- Shannon Stout and Bailey Hein, who are also leadership. Bailey Hein being captain and Shannon being spirit leader," she said. 
Regardless of all of the potential stress that being on the leadership team can cause, it is still an enjoyable position. 
"It's really fun, and we're always able to rely on each other," Bowen said.  
Even though Winter Guard is not well known, it is enjoyed by those who participate.
"I just fell in love with it because it was so pretty and awesome," Hein said.