Behind the Scenes of Spirit Week
See behind the scenes of student senate planning out spirit week.
For spirit week, we as students only see the decorations and the dance. But in reality, there is a lot more going on behind the scenes.
"We started preparations in early December." English teacher Vickie Metzler said. 
Even though the dance is still far away there is a lot to do already.
"It was more just planning when the dance would be, what theme we want, or what theme everyone agrees upon, we vote on spirit days. It is a lot of just the initial planning." Senior Maddy Six said.
There are weekly meetings, for the student senate.
"The officers and senators have had over 20 hours of meetings related to planning," Metzler said. 
Six is one of the officers and talks about how the plans that are being made are put in real life.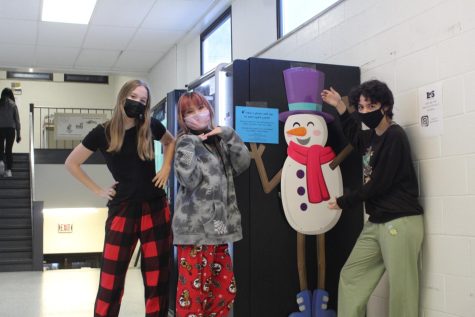 "We have to plan out all the decorations in the hallways, pep assembly and Spirit Week."
These weeks are busier for the officers.
"It is just like a lot of running around honestly, a lot of scriptwriting." Six said.
Metzler helps the officers trying to keep it organized.
"Mrs. Metzler does a great job of creating the google spreadsheets for us and giving us, each of the four officers tasks to complete each day." Six said.
Metzler talked about what she had to prepare for with the help of student senate.
"Reserving space for the dance, setting up ballots and online ticketing, organizing clubs for hall decorations, establishing a theme and spirit days, etc." Metzler said.
Metzler is the sponsor for student senate and helps them a lot, she makes the spreadsheets and helps the officers to plan.
"Teaching English is a demanding job in and of itself, and student senate does take up a lot of my time as well." Metzler said.
"
To play a role in developing student leadership skills and helping them learn skills beyond the classroom is very rewarding!"
— Metzler
Managing all this, besides her own English class and IB responsibilities can be difficult sometimes.
"I might be a little sleep-deprived. I couldn't sustain my work schedule if it were a year-round, full-time responsibility." Metzler said.
But all the work that Metzler puts into student senate is gratifying.
"To play a role in developing student leadership skills and helping them learn skills beyond the classroom is very rewarding!" Metzler said.
Six started in her freshman year by signing up for all kinds of clubs, she ended up being an officer for student senate, and for that, she has a bigger role.
"We're in charge of everything so it was a big change of the beginning of the year with becoming an officer." Six said.
This year, student senate planned the decorations differently, they asked different clubs to decorate the halls and so they made a competition out of it.
"We just asked clubs if they wanted to decorate the hallways as a competition." Six said.
The competition is taken seriously, Six asked both administration and teachers to judge the hallways.
"They will judge the hallways by four criteria and then we will have a winner by the assembly." Six said.