Heart of a Champion
Sam Bundren Talks About the Long Road to Recovery
The Lee's Summit High School Tigers' soccer practice on September 13, 2022 started like any other. Then, Sam Bundren suddenly felt dizzy. He thought he might pass out.
"I did not know until I got to the field that it was more serious," Nikki Bundren, Sam's mom, said.
Sam fell to the ground. He would not know until 15 minutes later as he lay in the ambulance that his heart had stopped beating. The Tigers' athletic trainer, Angela Oswald, was notified and rushed to the field.
"I immediately knew this was serious," Oswald said.
Joined by the goalkeeper, Brendan Adams, and Tigers' assistant coach Ross Glazner, Oswald began checking Sam's vital signs.
"What do I do if he dies?" Adams remembers thinking. "I was planning on taking off my shirt and covering him up so no one saw."
Many thoughts flooded the team's minds during this time; some filled with hope and others preparing for the worst.  No one truly understood what was going on or why. 
"My coronary artery was compressed and under a muscle of my heart, so every time my heart beat it would compress it, and if I exerted myself there was a possibility it would close completely." Sam said. 
Sam has lived his entire life up until this point not knowing he had a myocardial bridge. Oftentimes, this health concern is usually harmless and goes unknown, but rare occurrences can happen and lead to a fatal event.  
"Upon my arrival, Brendan Adams and Coach Glazner were checking for unresponsiveness and breathing; I hopped off the cart and checked as well and Brendan initiated CPR." Oswald said.
Teammates and coaches took immediate action without hesitation. Lee's Summit High School's head varsity soccer coach, history teacher David Wiebenga, quickly retrieved the AED. 
"It began analyzing his rhythm and delivered a shock," Oswald said, "Sam returned to breathing and a pulse within seconds of the shock."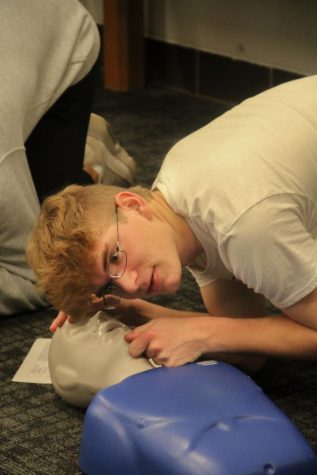 The line between life and death can be crossed in just a matter of minutes. Time is extremely valuable in serious medical emergencies. The Lee's Summit Fire Department has an average response time of four to six minutes.
"We continued to monitor Sam and follow AED prompts until EMS arrived and took over." Oswald said.
Sam was transported to St. Luke's Hospital and Children's Mercy where he stayed for a long duration to get the care he needed to start his recovery. He underwent open heart surgery not long after he was admitted. 
"The hardest part is knowing there is only so much you can do to help him through the process, and thinking about what could have happened that day if the right people hadn't been there at the right time to save him." Nikki said. 
The result from that day may have been different if the right people weren't there. Learning and getting 'first aid and CPR' certified is available for everyone and can save a life.
"My advice is to get CPR certified no matter what. The odds of this happening are very low but not impossible." Adams said.
Certification classes can be found online or in person. Check the American Red Cross or the American Heart Association website to find which option would best prepare you. Also, your local fire department can help connect you to their Emergency Preparedness division for local and updated information and classes.  
"You not only save the kid's life, but their families, friends, and teammates from trauma and sadness." Adams said.
"
It still doesn't truly process through my head and I have to convince myself he's still alive.
— Brendan Adams said
Medical events and emergencies not only set back the patient's physical health, but it also has a big effect on their health and close family and friends' mental health. Anxiety, guilt, depression, and denial often affect many individuals after a traumatic injury or illness. 
"They will forever be impacted by it." Oswald said. 
 No one realizes how fast reality can hit and change your life forever.
"It still doesn't truly process through my head and I have to convince myself he's still alive." Adams said. "It just doesn't feel real."
This close call gave Sam a new perspective for approaching and reflecting on opportunities he has had and is looking forward to. 
"Don't take anything for granted." Sam said. "Just live the life you want and don't be afraid to do anything because in the end, the little things don't matter."
"
We are so proud of him, he truly is amazing. He has been so strong through this entire process and can't wait to see all the things he accomplishes in the future.
— Nikki Bundren said.
Sam's mom was one of his biggest supporters during his hard journey. While everything deeply affected her and others around her, she too stayed strong and persevered during some of the worst days. The state of the parent's mental health is the base for their child's mental health. Many children and teenagers feed off of how their parents are reacting to conflict. 
"It is hard to watch your child go through such a traumatic event, you have to take each day and help motivate them, but also know that they need space to heal and work toward returning at their own pace." Nikki said.
Sam's mom recognizes the effects it could have on him from early on. Having a good balance of close support and time for them to focus on their own leans towards a better relationship and communication between the parent and child.
"I think the biggest challenge was not being able to speed the process up, there was a specific recovery timeline and there was nothing he could do to make that any faster." Nikki said.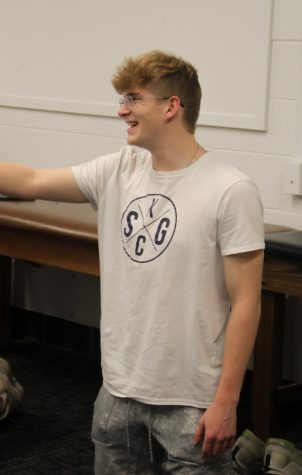 So many individuals were impacted by the events of that day. 
"That I am so grateful and thankful EVERY DAY that he is here with us and doing so well." Oswald said . 
Some were affected more than others, and some took on a different perspective for any chance they got to spend time with their loved ones.
"I'm so happy and thankful you're okay, you were the inspiration to live all over KC and especially our soccer team. The fact that you have the same attitude as before shows how strong of a person you are." Adams said. He will never forget that day and the role he played.
Nothing will ever compare to a mother's connection and feelings toward her children. From the beginning stages of learning to walk to the stages of saying goodbye for college, a mother would do anything to just make sure her child is safe and okay where they are. So, not knowing if hours before would have been the last time you ever see them again has a major effect on her, but sticking by her child's side and knowing that they are safe makes up for it all.
"We are so proud of him, he truly is amazing. He has been so strong through this entire process and can't wait to see all the things he accomplishes in the future." Nikki said.
No ever know when one day could be their last on that field. It is a reminder to get that extra rep, enjoy the hard practices, improve from a loss, forgive teammates and coaches, and just enjoy the sport.
"You never realize how much you love your sport until it is taken away from you." Sam said. "Live by the field, die by the field."