On Friday, September 22, 2023 the Tigerettes performed during the halftime show of the school's 150th year celebratory football game. The dancers shared their time with a younger group of girls, who they had trained prior to the show, a tradition they do every year.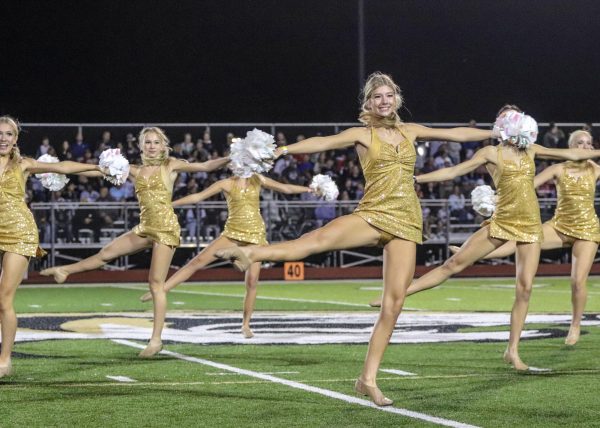 "We have just the two nights of mini camp. We usually prepare like the week before, with the girls, and then we split them up into groups. From there the girls get to teach the minis their dance of choice and then after that we all come together for the same number and perform that," Coach Kaitlyn Rader said.
This year Rader's sister and co-coach, Jen Blankenship, came up with a new system of keeping everything in order.
"Jen keeps everything really, really organized. She runs that whole side of everything. And last year she started a little system with wristbands. Each tigerette has their own color wristband so that nobody gets lost with the crowds," Rader said.
So while all of the girls are divided into three groups, each tigerette is given a different color wristband, and is the leader of their own subgroup of mini tigerettes.
"Wristbands were a game changer this year and made everything so much more organized. I would say that they're in charge of like, like seven to ten little mini campers, depending on how many kids show up, and then when they get split up it is that much easier since we can just color match to get everyone back together." Junior Ava Saylors said.
Senior dancer Abbie Rinas enjoyed her time with the kids, but found this year to be more difficult than her previous one.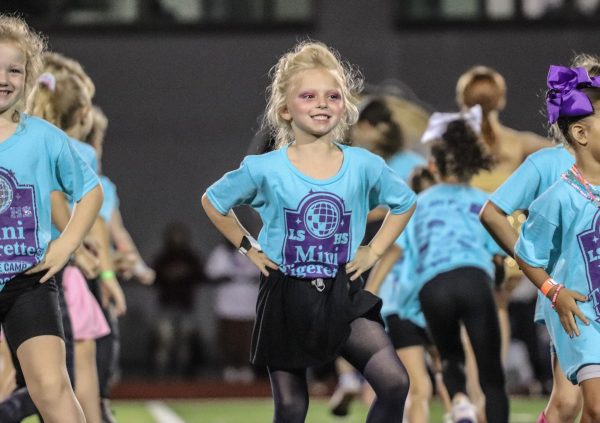 "Something I disliked about this year was that I had the babies this year. And you know, they're like, two and three. So they don't really listen and they don't really know what's going on. But they're still c
ute," Rinas said.
The team tried their best to just keep going when they reached their last routine which was the group dance with the minis.
"When we got to the very end of our dance where everybody dances together, the music just stopped. So we all kind of just looked at each other and had to act off our instinct, which was to just keep going. Then we all just started singing the lyrics and dancing. It was kind of fun actually," Rinas said.
Despite the music going out, senior Emery Lee found that the malfunction helped encourage her and her teammates.
"The crowd was really encouraging. Like it was kind of embarrassing at first just because  your music stopping is kind of a problem. But then everybody in the crowd started singing the words to the song so that was great. It was a relief and even though it was kind of a negative thing, it was the best way to end that whole situation," Lee said.